IAMA Marine Surveyors specialise in bunker quantity surveys in most of the major bunker ports in the world mainly Singapore, Hong Kong, Fujairah, Gibraltar, Algeciras, Rotterdam & Panama. We also cover Japan, Korea, Malaysia, Thailand, Indonesia, Vietnam, Philippines and India.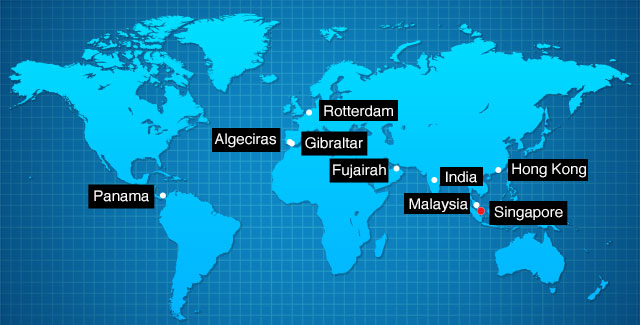 We are proud of our team of expert surveyors who have been trained for years in special skills as bunker detective surveyors whereby we have been successful in unearthing various tricks on board vessels and bunker tankers.
Our team is very well established and known in Singapore bunker industry for establishing extreme high standards of surveying whereby we have challenged traditional ways of surveying and managed to carve out a special image of IAMA surveyors in the Singapore bunker survey industry.
Our Annual Fuel savings: We are proud to have served some of the world's leading ship operators and have been able to save fuel worth over 12 million USD per annum for an individual client with the help of our Global survey team.
In house surveyors: At IAMA Marine we believe in the concept of in house surveyors and thus have established surveyors worldwide who have been personally trained by our Managing Director Mr. Faheem Hurzuk worldwide.
Each individual surveyor has performed to the utmost satisfaction of every single client and with the continued support of some of the leading ship operators we are proud to be one of the biggest survey network covering 4 continents and all the major bunker ports